With Earth day coming up, we thought it would be fun to share a recycled craft you can do with your kids. These egg carton flowers would be great to make for Mother's Day, or just to put on display in your kitchen for a Spring craft! We love that the flowers are made from egg cartons and the vase is a tin can.
RELATED: Tin Can Planters 
Egg Carton Flowers
Kids will have a lot of fun making this project! And if you have a lot of extra popsicle sticks, they are perfect for decorating your tin can. You can also easily paint tin cans, and you can see our tutorial on that here.
We love that these egg carton flowers use mostly stuff you have in your craft supplies or around the house – tin cans, egg cartons, popsicle sticks and buttons. Just grab some paint and some glue and you're all set to make these!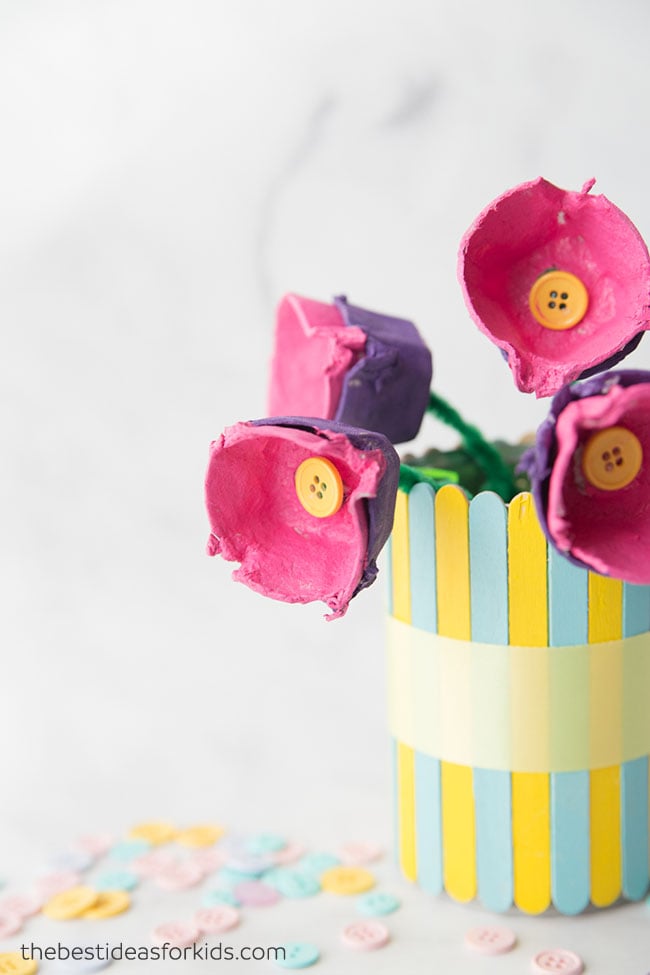 Supplies Needed to Make Egg Carton Flowers in a Tin Can
-Medium Sized Tin Can (the one we used was a 19 oz can)
– Egg Cartons
– Bright pink and purple paint for the egg cartons, blue and yellow for the popsicle sticks
– Popsicle Sticks
– Yellow Buttons
– Neon Green Pipe cleaners
– Large yellow ribbon
– Glue Dots  – these are great for kids to use and makes gluing to the tin can easy peasy!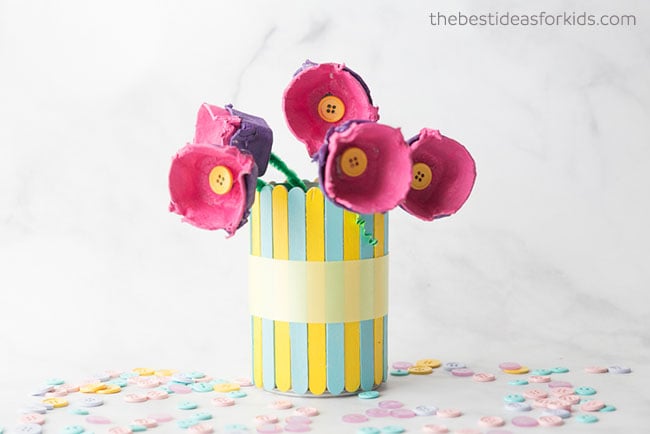 Watch the full tutorial video here before you get started! 
Directions to Make Egg Carton Flowers
1. Cut out your egg cartons. You may need to round the edges when cutting so that they look more like petals.
2. Paint your egg cartons. We made 5 flowers so you'll need 5 egg cartons painted pink and 5 purple.  Once dry, make a hole in the bottom of the egg carton with a pencil or pen.
Place the pink egg carton each purple one. Put some glue on the inside of the purple egg carton and then put the pink one on top.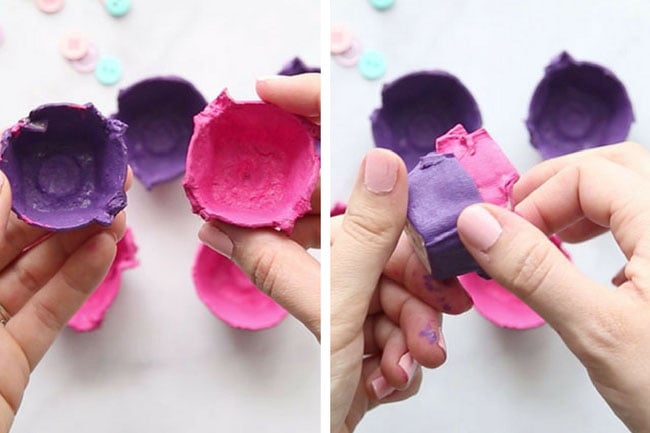 3.  Fold over your pipe cleaner so that the folded part is at the bottom of the stem of the flower. Then push the top 2 pieces through the egg carton holes. Twist the pipe cleaner all the way down so that the two halves come together and make the pipe cleaner stem stronger.
Note:  Using a pipe cleaner for the stem is not sturdy enough if you want the flowers to stand up. If you want them to stand up straight you can use a paper straw or wooden dowel instead. We are partial to the pipe cleaner though as they make the flowers droop and look more real.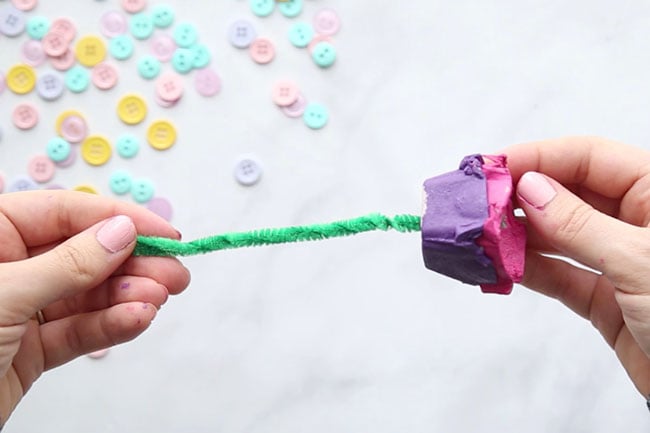 4. Glue your button on top of the pipe cleaner in the center of the egg carton. Twist the pipe cleaner a bit before gluing the button down. Using hot glue here will help keep the flower together (adults only should do this part).
5. Now make your tin can! Paint some popsicle sticks in two different colors. We liked blue and yellow. We used glue dots to glue them to the can. These are perfect and easy for kids to use!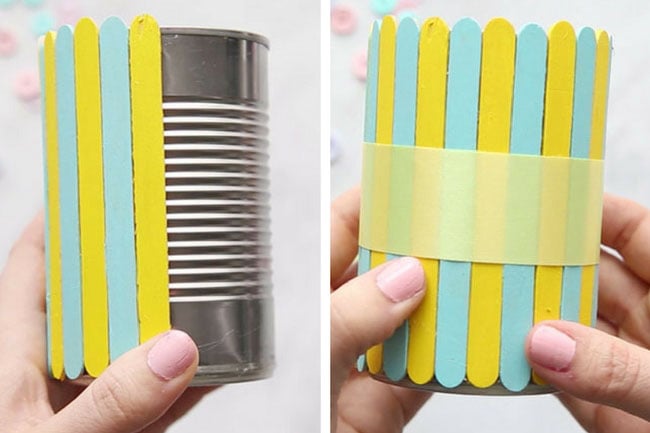 6. Now add some paper filler inside your can and place your egg carton flowers inside.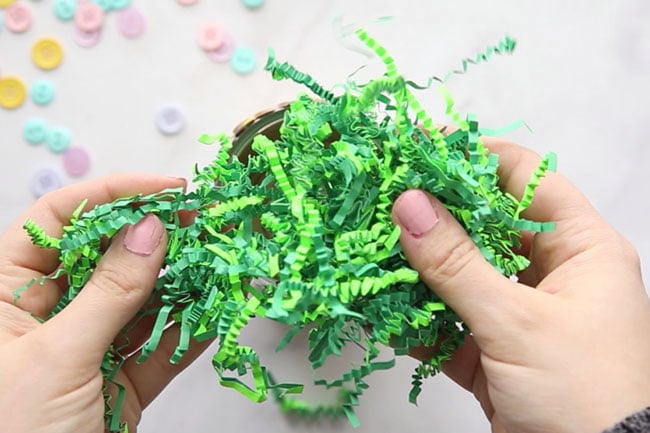 7. Finish your can off with a large or small piece of ribbon tied around it. Doesn't this look so pretty? We love how this turned out! Mom or Grandma will surely love to receive this bouquet of flowers for Mother's Day or a birthday.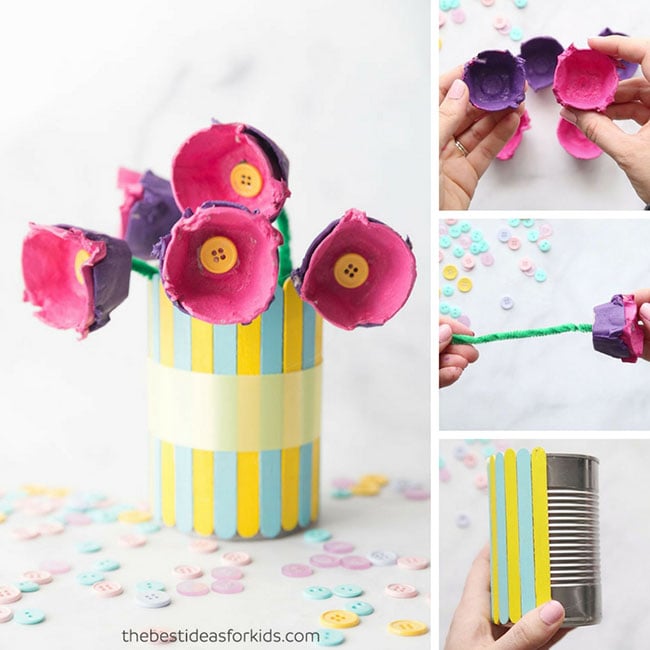 More Mother's Day Ideas
See over 20+ of our favorite Mother's Day Crafts for Kids.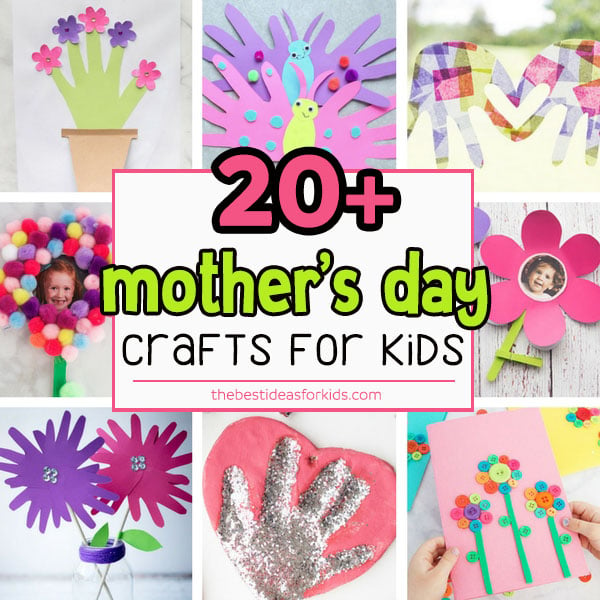 Also see these cute fingerprint butterfly mugs. These make the perfect keepsake gift to give to someone you love!